PRESSURE WASHING SERVICES FOR CONDO & TOWN HOME HOA's
Let's face it… cleaning a house or a deck is a big project for most home owners not to mention some small companies.  Now imagine having an entire complex or subdivision to do!
TimberSeal, LLC specializes in property maintenance services for condo, town home and strip mall owners.  Our vast array of services and extensive experience will keep your properties sparkling clean and well protected to preserve your investment for years to come.  Our exterior cleaning and softwashing services can be applied to virtually any surface but the common areas for HOA's tend to be in Concrete Cleaning, Exterior Building Washing, Vinyl Shutter Restoration, Deck and Fence Cleaning, Sealing and Maintenance, and Exterior Painting and Staining for siding and trim.  We have a number of associations and HOA's throughout Northwest Indiana that utilize our services extensively.  It's all about maintaining their properties pristine appearance at a price that fits in line with their budget.  Below you'll find additional information on the most common services provided to local HOA's and property management firms.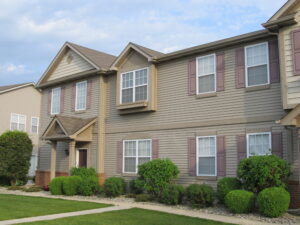 EXTERIOR BUILDING WASHING
Building exteriors (homes and businesses) accumulate dirt and grime.  TimberSeal removes it by way of our Softwash Exterior Cleaning process.  We provide a low pressure approach to cleaning that utilizes proprietary detergents and brighteners.  This allows us to wash and restore the appearance to your vinyl, stucco, wood, aluminum or brick exterior without the concerns associated with high pressure power washing (forcing water behind the siding, blowing out mortar joints, damaging window seals, etc…)
DECK & FENCE MAINTENANCE
TimberSeal provides cleaning and sealing services for your town home, condo or commercial decks, boardwalks, fencing, siding, gazebos and more.  To maintain a great appearance and insure the expected lifespan is achieved out of your wood structures they must be cleaned and sealed / preserved.  We can keep your structures looking great and protected from the elements thereby preserving the integrity of the wood for years to come!
CONCRETE & PAVER CLEANING & SEALING
Nothing accumulates grime more quickly than concrete sidewalks, drives and entryways at your properties.  Daily traffic, grime, general fallout from the landscape, chewing gum and more all accumulate and absorb into concrete surfaces leaving them with a dirty unappealing appearance.  When left mildew and algae will even begin to grow in shaded and moisture laden areas causing slip and fall concerns.  Sprinklers also often deposit irrigation rust and minerals on the concrete thereby adding to the discoloration.  TimberSeal can clean, restore and maintain your concrete sidewalks, driveways and entryways to maintain a great appearance at your property.  We even offer sealing and staining services for those looking for the next level of protection and appearance!
VINYL SHUTTER RESTORATION
Vinyl shutters have become a staple in exterior home decor these days!  Unfortunately after a few years of weathering many have found excessive fading, discoloration and an overall unappealing appearance has come forth.  If it's faded vinyl we can restore it back to it's original appearance and save your HOA big money over replacement!  Don't paint your vinyl shutters…. RESTORE THEM!