Exterior Housewashing Services by TimberSeal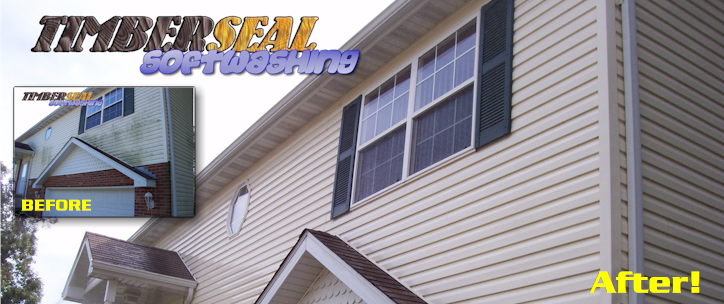 So it's been a few years since you bought your home and you can't help but notice it doesn't quite have that fresh clean appearance it once had.  Week after week your car see's the love of a car wash, but your home (probably your biggest investment!) probably hasn't ever been washed!  Fact is the Northwest Indiana and Chicagoland region has some pretty dirty air in the first place.  Factories, mills and power plants produce an enormous amount of air pollution that clings and attaches itself to everything we own.  With your home in particular these contaminants combined with pollen, leaf debris, corn fields and more all make your siding and trim dull and discolored.  The suns rays cause bleaching and oxidation and areas of excessive shade and moisture cause mold, mildew and algae to grow on the surface.  Right about now I know what your thinking…. "why am I living in Indiana!".  Just kidding 🙂
TimberSeal Softwashing is the solution to your siding's pollution.  Our Softwashing system allows for a safe, gentle and thorough cleaning of your home's exterior.  Using landscape friendly detergents and brighteners we bath your home in the suds needed to emulsify and lift attached dirt, debris and contaminants.  Within the detergent we also incorporate a solution designed to kill off and remove mold, mildew and algae.  Our technicians then apply a special cleaner to your gutter exteriors in order to remove any discoloration and streaking from the gutter.  You can view an example in the photograph below.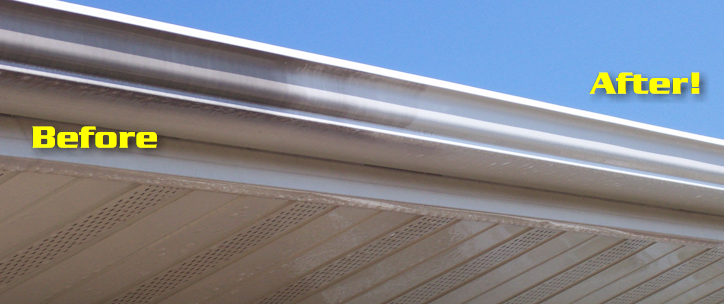 Once applied our technicians scrub your gutters and trouble areas within your homes exterior.  The final step comes with a Softwash of the exterior and a final rinse to remove any remaining detergents or contaminants.
WHAT IS SOFTWASHING
Softwashing is the term given to a process of cleaning a surface using low impact cleaning methods.  This is typically accomplished through the use of specially designed soaps and detergents that are formulated to lift contaminants from the surface.  By doing so it enables the cleaning contractor to remove the dirt, debris, mold, mildew and algae from the surface with a low pressure washing technique.   Where as a typical pressure washer will place 3000 psi of water pressure on your siding a Softwashing system only uses around 80 to 300 psi to clean.
Unlike Pressure Washing, Softwashing will NOT:
Damage your siding
Force water up behind your siding
Damage your window seals
Force water into your soffits
Peel paint and other coatings
To schedule a free no obligation quote and consultation on the exterior of your home give us a call at (866) WOODCARE or locally at (219) 548-2670.  For your convenience you may also submit an estimate through the link below.